Kako se radi zbirni kontejnerski transport odn. LCL (less then container load) transport ? Koji su to detalji na koje treba posebno obratiti pažnju ?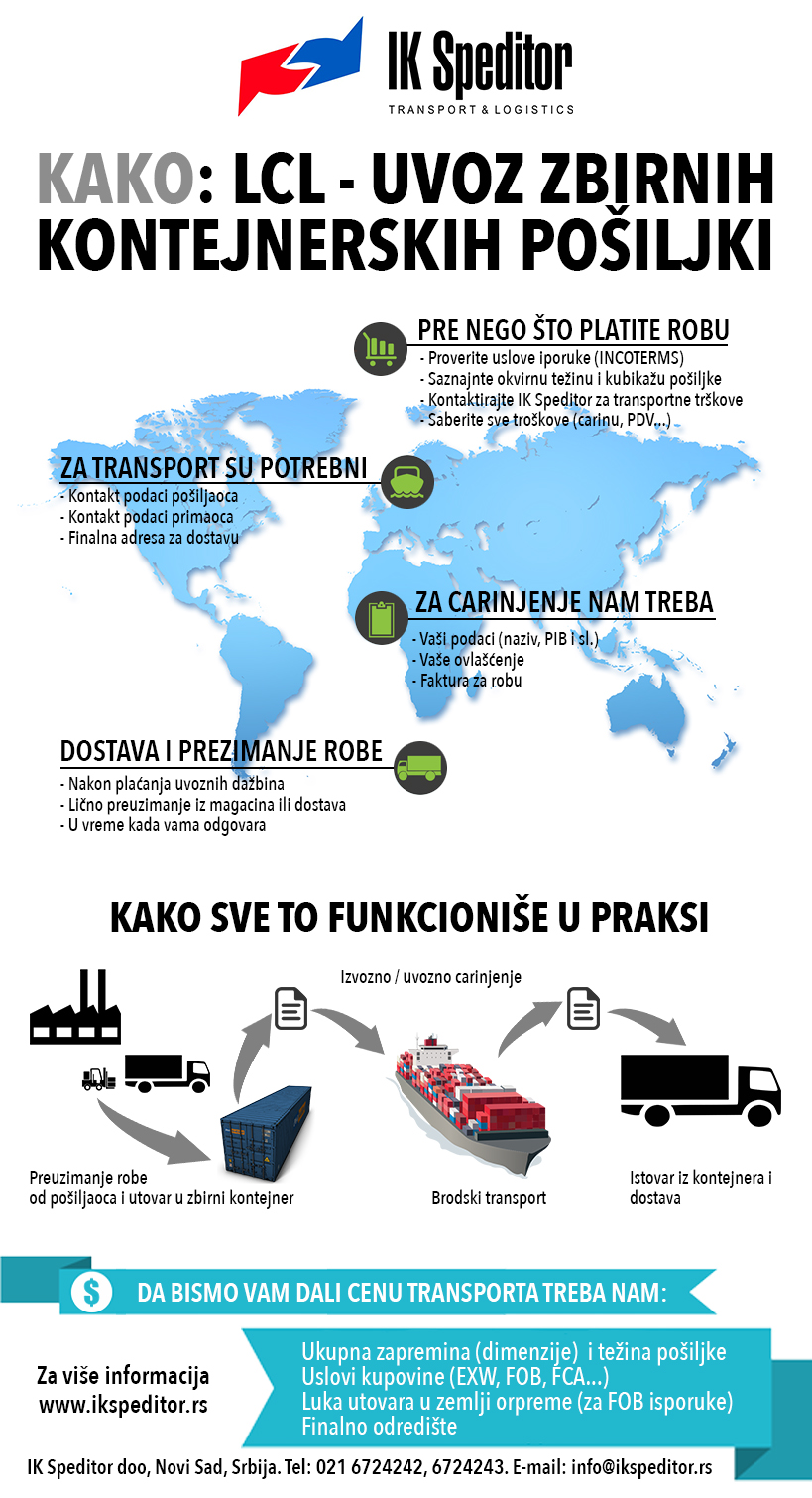 Pre nego što platite robu:
Proverite uslove odnosno paritet isporuke (INCOTERMS) – više o paritetima možete pronaći OVDE
Saznajte težinu i kubikažu pošiljke
Kontaktirajte IK Speditor za transportne troškove – pošaljite nam UPIT za transport
Saberite sve troškove (roba, trnapsort, carina, PDV…)
Za transport su potrebni:
Kontakt podaci pošiljaoca
Kontakt podaci primaoca
Finalna adresa za dostavu
Za carinjenje nam treba:
Vaši podatci (naziv, PIB i dr.)
Vaše ovlašćenje
Faktura za robu
Dostava i preuzimanje robe:
Nakon plaćanja uvoznih dažbina
Lično preuzimanje iz magacina ili dostava
U vreme kada vama odgovara
Kako sve to funkcioniše u praksi ?
Nakon preuzimanja robe na adresi pošiljka se doprema do sabirnog magacina gde se roba konsoliduje sa drugim pošiljkama, izvozno carini i tovari u kontejner. Dopremanje pošiljki i postupak izvoznog carinjenja u vašem je aramžmanu ukoliko robu kupujete na EXW paritetu dok su ti poslovi u aranžmanu pošiljaoca ukoliko robu kupujete na FOB paritetu.
Nakon carinjenja i utovara kontejner se tovari na brod i dovozi do istovarne luke gde se iskrcava. Nakon iskrcavanja kontejnera sa broda sva roba se iz  istovara u magacin, obično u luci ili negde u blizini luke, odakle se vrši dalji transport robe na krajnju destinaciju. Po pristizanju robe u Srbiju pošijljke se smeštaju pod carinski nadzor u carinski magacin u Beogradu odakle se, nakon carinjenja i plaćanja uvoznih dažbina, dopremaju na finalnu adresu.
Da bismo vam dali cenu zbirnog kontejnerskog transporta potrebne su nam određene informacije:
Ukupna zapremina (dimenzije) i težina pošiljke
Uslovi kupovine odn. paritet (EXW, FOB, FCA…)
Luka utovara u zemlji otpreme (ukoliko se radi o FOB paritetu)
Finalno odredište
Za više informacija kontaktirajte nas putem telefona (021 6724242) ili putem emaila (info@ikspeditor.rs) a naši specijalisti će vam rado pomoći da donesete najbolju moguću odluku i rešite sve nedoumice u vezi sa zbirnim kontejnerskim transportom.